This is research I did in 1995. Although most of the links are dated, many people have reported that the information is still useful.
---
Internet Research Tools for Vocalists
(c) Copyright 1995 Richard Repp All Rights Reserved (Disclaimer)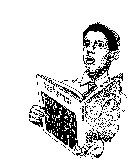 This World Wide Web page details Internet use by vocalists.
Although intended primarily for vocalists,
the information is useful for any musical research.
---
Table of Contents
---
Overview
The Internet provides worldwide access to sources of information impossible to attain using traditional means. Even though a great deal of data is being transmitted across the globe via the Internet, the question of the effectiveness of the exchange for serious research remains.
Problem
The advent of technological communication has reached the point where effective discourse on every discipline in music is being exchanged via the Internet; however, voice and choral faculty are often reluctant to embrace the avenues of discourse available. In an area as specific as serious vocal music the facts presented must be of high enough quality to entice vocalists to become proficient in the mechanics of the Internet.
Plan
I will explore the communication possibilities available to University voice and choral faculty and present particulars concerning the nature of the various research avenues for the academic vocalist. As an example of research on the Internet I will detail the process of my queries and present my views on the effectiveness of the Internet as a research tool.
Specific areas of research include electronic mail (e-mail), mailing lists, Usenet News and World Wide Web (WWW). Comparative quality of the communication will be discussed. Current issues that impact music such as the use of MIDI for accompaniment purposes will be highlighted in order to show the nature of material discussed.
The results of the research will be placed not in the traditional research paper format, but rather in the form of a World Wide Web document. The final report will contain electronic links to sites of interest to the vocal researcher.
Methods
Originally I set out to report how technology is impacting today's academic musicians. The research was to show how technological advances such as the Compact Disk-Read Only Memory (CD-ROM), MIDI (q.v.), electronic laryngoscopes and other technology have impacted music; the Internet would have been a vehicle for my research. But I soon realized that the single most important technological advance of recent memory is the Internet itself.
My first step was to find the proper sources of data for my research. For philosophical reasons I wished to resort to as few traditional sources for research as possible, but as a starting point I used the Internet Yellow Pages [Footnote 1] to gain access to music references on the Internet. A good deal of media on specific types of music exists, particularly electronic and popular music. I saw a need for more exchange on vocal music.
---
Return to the Table of Contents
---
Vocal Music
The impact of technology is felt in the college music departments across the nation, but voice departments are often the last to embrace the technology. Perhaps the vocalist's reliance on the instrument's existence within the body of the performer leads to the reluctance to seek out seemingly foreign technological avenues. The nature of the vocal instrument and the traditional methods in which vocal teaching is disseminated may lead to an aversion to technology. The profession may need a less computer phobic generation to pass in order to apply the full impact of technology.
I asked the world in the form of an e-mail message concerning the resistance of vocalists to technology. Reaction was mixed. Some found professors who do not even use telephones, much less computers. Others had had better luck at getting the attention of some professors through e-mail than one would usually expect from navigating a college switchboard. Click here to read these messages.
Resistance
The facts available may not be easy enough to access for the average vocal/choral professional. The first obstacle is the use of a computer. Although technophobia is decreasing as systems become more friendly to the consumer, the reluctance to learn a new technology is not appealing to some. Apprehension is particularly apparent in those who have garnered respect from colleagues and students. Accomplished professors often do not want to be seen as not being able to accomplish a task that is second nature to many twelve year old students.
Some musicians are philosophically opposed or indifferent to technology. Indian musicologist Bernard Bel speaks of the difficulty in introducing electronic aspects to music that has survived for thousands of years without a microprocessor. The Internet is not appealing to all philosophies.
Cost of using technology is also a factor. Although connection to the Internet or an on-line service seems out of line for many academics, many universities are willing to foot the bill for the technology. The difficulty in connecting is no longer an excuse for most university personnel.
The next generation of scholars is understandably less reluctant to embrace technology. Students like doctoral candidate Wanda Bryant are using all avenues of Internet file exchange to further their work. Those who choose not to access the information are leaving a void in their research.
---
Return to the Table of Contents
---
Results
In an area as specific as vocal music only the highest quality information is of any use. One problem with the Internet is that communication lines are open to comment from anyone who uses a computer, and therefore the quality of discourse varies. The general public's views on the singing style of pop artists will not hold the attention of the academic community for long. The question of whether the knowledge available is worth the effort remains.
E-mail
The most widely used Internet tool is electronic mail (e-mail). The speed and flexibility of e-mail allows for quick communication within a project. E-mail is the least difficult Internet communication device to master and the avenue for electronic exchange most available to the average person.
E-mail is an effective method of finding information only if the user knows whom to ask. For my research I collected a list of e-mail addressees of experts in the fields covered. To find the right people with whom to correspond I sent out a mass mailing asking for information to many mailing lists (q.v.) and Usenet Newsgroups (q.v.) to produce a mailing list of my own. Because e-mail messages are confidential, I sent out a letter asking for permission to use the e-mail messages I have quoted in this project. Mass mailings are generally frowned upon over the Internet, but my carefully placed message garnered excellent results.
Although a few people did not wish their comments made public, the response was overwhelmingly positive. I received this letter from British musicologist Alistair MacDonald pointing me in the direction of composer Trevor Wishart. Although my research did not take me in this direction, the message is a good example of the varied and cogent comments I received from helpful musicians around the globe.
---
Mailing Lists
The best information in a field as specific as serious vocal music is through automated mailing lists known as LISTSERVs or majordomos. Lists offer the convenience of e-mail and a knowledge base of experts in a specific field. Lists are simply a group of e-mail addresses of people interested in a particular field and a computer that automatically feeds e-mail to these people.
The list Vocalist is a collection of persons interested is vocal music. To become a member the subscriber sends an e-mail message to the Vocalist subscription address (majordomo@vocalist.org) including the message: _quote_ SUBSCRIBE VOCALIST (username@host) _unquote_ . In most lists the message is answered electronically and the subscriber is automatically added to the list. Some lists have more complicated subscription processes such as a password to verify the validity of messages, but all the lists are efficient in communicating the procedures needed to subscribe once the original message is sent.
Once the user is subscribed to a list he or she will receive copies of the letters sent to the list address. For Vocalist the list address is vocalist@vocalist.org. Requests such as the UNSUBSCRIBE or HELP commands are sent to the subscription address rather than to the list itself.
The sheer number of messages is the major detriment to the lists. Many of the postings are not of interest to everyone and can be tiresome to screen. Some lists are more active than others; the Musicals list (q.v.) alone can receive over one-hundred messages per day. As accidentally deleting or delaying an answer to an important message is inevitable in such a jumble, lists should be used judiciously.
Etiquette on lists is important, particularly among the more dedicated list users. I was careful to post a message asking for permission from every list and Newsgroup (q.v.) with which I worked. A first time user should always monitor a list before posting a message in order to avoid the wrath of the list members. Unfortunately people can be impatient when dealing with an anonymous computer message.
The good news about the lists is the high quality of information available. Lists are populated by persons who are qualified in their particular fields. The following lists are particularly effective in locating quality information.
---
Return to the Table of Contents
---
Mailing Lists of Primary Importance to Vocalists
As stated in the welcome message, Choralist (choralist@lists.colorado.edu, subscription address:listproc@lists.colorado.edu) _quote_ ... is intended to be a communication mechanism for the exchange of information and ideas between practicing choral conductors. Choralist is open to anyone but is specifically oriented towards research and information dissemination for the choral conducting professional. _unquote_ [Footnote 2] Example topics as diverse as help for new choir directors, looking for work and recruiting tips are discussed.
Musicals (musicals@world.std.com, subscription address: majordomo@vocalist.org ) is a very active list (warning: over one-hundred messages per day) dealing with all aspects of musicals. Unfortunately many of the posts are frivolous (such as a composer's sexual preference), but the worthwhile information on the genre is worth the effort. Sample topics include what music not to sing at an audition and how an actor uses a trained voice.
The definitive discussion group for opera aficionados, Opera-l (opera-l@cunyvm.cuny.edu, subscription address: listserv@cunyvm.cuny.edu), receives posts about opera from across the globe. Posts are of a high level of knowledge and contain references to performers and opera personalities. Examples from the LISTSERV Opera-l include discussions of current operas under production, vocal techniques and favorite performers.
Vocalist (vocalist@vocalist.org, subscription address: Majordomo@lists.oulu.fi) (Web: http://vocalist.org/) is a must for the academic vocalist. The list is the most thorough and detailed avenue for information on singing in all styles and at all levels. Examples from Vocalist include:
_quote_
* Repertoire, technique and interpretation in different styles, such as
Medieval, Baroque, Renaissance, Classical, Modern, Jazz etc.

* Auditioning technique and actual audition announcements

* Singing in an ensemble; working with a director

* Working with accompanists

* Various and sundry (concerts, records, jokes etc.) - you name it!
_unquote_
[Footnote 3]
---
Return to the Table of Contents
---
Mailing Lists with Secondary Impact on Vocalists
As their initial mailing states, Allmusic (allmusic@listserv.american.edu, subscription address: listserv@listserv.american.edu) _quote _ ... is dedicated to the discussion of all forms of music. All aspects of music, from appreciation to performance, are welcome. _unquote_ [Footnote 4] Since the list deals with all types of music, Allmusic is of little use to those interested in a particular field of study such as serious vocal music. The breadth of scope does allow for discussion of aspects of music as diverse as Hawaiian music and thrash.
The list for the American Musicological Society, AMSlist (amslist@ucdavis.edu, subscription address: listproc@ucdavis.edu), has some interest to all musicians, although the chief emphasis is for the society itself. Posts by knowledgeable musicologists make for informative readings dealing with all types of classical music. Examples from AMSlist include writings on criticism and its connection with musicology.
Vocalists who sing the blues will have an interest in Blueslist (blues-l@brownvm.brown.edu, subscription address: listserv@brownvm.brown.edu). Most of the examples from the LISTSERV Blues-l are on nonvocal topics, such as what Buddy Guy is doing these days or good radio stations for blues.
The Classical Music List (classm-l@brownvm.brown.edu, subscription address: listserv@brownvm.brown.edu) deals with all types of classical music and therefore is of secondary interest to the vocalist. Those interested in discussing opera are directed to the list Opera-l (q.v.). The posts are informative and worthy of attention. Samples of topics include building a record library and the best sources of Gregorian chants.
The CTI-Music list (cti-music@mailbase.ac.uk, subscription address: mailbase@mailbase.ac.uk) welcome message states: _quote_ This list is run by the CTI (Computers in Teaching Initiative) Centre for Music and is open to anyone working in university Music departments. It is intended for discussion of university-level Music teaching and research, whether or not computers are involved. _unquote_ [Footnote 5] Topics such as the utilization of pedagological software are discussed. The list seems like a good idea, but is underused.
The list for the Music Library Association, MLA-l (mla-l@iubvm.ucs.indiana.edu, subscription address: listserv@iubvm.ucs.indiana.edu), deals mostly with the workings of the MLA, but is a good resource to find persons knowledgeable of music. Examples from the LISTSERV MLA-l are particularly effective in locating pieces or composers.
---
Return to the Table of Contents
---
Newsgroups
Another avenue for information exchange of information is through Usenet Newsgroups. Since unlike mailing lists (q.v.), Newsgroups contain posts in a central location accessed by the user, mailboxes are not cluttered with messages. The user simply accesses the news server and tunes into available groups of interest. Since the log on process of Newsgroups is less involved than mailing lists and requires no subscription process, a wider use of these groups exists. Unfortunately, since the groups are open to the general public the level of discourse is not as high as in the lists.
A cappella music is well represented in the Newsgroups. The two Newsgroups (Connect to) alt.music.a-cappella and rec.music.a-cappella cover the same topics, and people on rec.music.a-cappella suggest everyone use their group rather than the alt. group. However some news servers may not have access to both Newsgroups. In their posts the groups discuss every aspect of a cappella singing from chant to barbershop to vocal percussion. The Contemporary A Cappella Society of America (CASA) provides a detailed Frequently Asked Questions (FAQ) release which details:
_quote_
        1) General Information and A Cappella Organizations
        2) A Cappella Services
        3) Arranging & Performing A Cappella
        4) Specific A Cappella Groups and Recordings
        5) A Cappella Internet Resources
_unquote_
[Footnote 6]
Members of the Opera-l (q.v.) list recently produced an opera Newsgroup, rec.music.opera. The posts are at present similar to those on the LISTSERV, with no mail jam. The posts will retain the high quality of the list in the more public forum of the Newsgroups.
Errata: I should have given Andy Frakes credit for creating this fine group, sorry Andy.
Other Newsgroups that contain some posts of interest include some pertinent discussions in the Newsgroup rec.music.early. Another Newsgroup whose posts are of interest is rec.music.classical. The problem of how to decide which classical Newsgroup is right remains. Until more qualified vocal professionals take the time to monitor and post to the Usenet Newsgroups, the lack of quality information will continue.
---
Return to the Table of Contents
---
World Wide Web
The most exciting avenue available to the Internet user is the World Wide Web (WWW). The Web incorporates various electronic presentation formats into one setting. The Web user can view not only textual data, but also sounds, graphic images and even animations.
The Web is an extension of previous technologies such as Gopher and File Transfer Protocol (FTP) that allow the user to access files stored on computers connected via the Internet. The user simply enters the Universal Resource Locator (URL) of a Web page to access the material linked to that Web page. The URL for this document is:
http://richardrepp.com/research/vocal/index.html
Luckily the user does not need to memorize all of the addresses needed. One simply follows hot links or creates a personal hotlist without needing to know the technical details of the file transfer.
Web Searches
The organization of the Web is still evolving. Since no central authority exist to regulate the Web, finding the proper links can be frustrating. Many referencing avenues such as the Einet Galaxy search engine exist. The user enters the topic to be explored in the _Search for_ box and clicks on the Search button.
---
_quote_

_unquote_
[Footnote 7]
---
Searching through the many different search engines on the Web can be time consuming and lead to many dead ends. A inquiry on the word vocal was useful, but a search on the word voice was so full of non music links such as the Voice of America broadcasts that the results were unusable.

A better way to seek musical topics is to access someone else's list of links. One of the most complete music references is The Mammoth Music Meta-List @ VIBE. Even searching preexisting lists can lead to too many false leads. Accessing a list from someone with similar interests is more beneficial. I concocted a master list of many of the links I used in my research.

Links of primary importance to vocalists usually mirror the interests of Internet Newsgroups (q.v.) or mailing lists (q.v.). The Newsgroup rec.music.a-cappella (q.v.) generates a good deal of interest in a cappella music, and therefore Web pages such as the A Capella Directory and A Cappella WWW Links provide links to all realms of unaccompanied music including, but certainly not limited to, Barbershop. The quality Web pages exist because a cappella music has an electronic following.

The mailing list Opera-l (q.v.) also generates a list of opera links that one can order by sending a request for links to the host computer. In a low tech environment such as opera one might not expect such an overwhelming amount of information, but everything from an opera schedule server to a list of opera synopses and resources can be accessed on command. Fans and recording companies of individual stars such as Cecilia Bartoli are using the Internet to promote individual artists.

Even established musicological entities such as the RISM (Re'pertoire International des Sources Musicales -- the International Inventory of Musical Sources) have gone online. Although many other interesting music links exist, no list is complete as the Internet is a constantly changing entity.
---
Return to the Table of Contents
---
Web Presentation
Hypertext
Systems such as e-mail (q.v.) and Usenet News (q.v.) are effective in communicating textual information, but the World Wide Web offers other areas for research oriented exploration. The text information accessed is in the form of hypertext with hot words that can take the user to a different location on command. Hypertext engenders a totally different thought process when dealing with a information. No longer is a paper limited to a linear hierarchical format, but instead the reader is compelled to diverge towards topics of interest by following the proper hot links.
Online Essays
Some interesting online essays that have a bearing on the Arts are beginning to appear. One of the best sources for humanities oriented online essays is the online magazine Chorus. Chorus contains information on computing in the humanities. The Society for Music Theory agrees that the Web's use of hypertext links that


[Clicking here will download a large version of this picture]
Siegfried and Fafner
_unquote_
[Footnote 9]
---
Clickable Image Maps
The use of graphics is not limited to a more interesting display. Graphics also allow for the use of clickable image maps to guide the user. The home page for the College of Fine Arts at Illinois State University uses this mouse sensitive map to direct the user to his or her destination.
_quote_

Note: Map removed becuase system cahanged, sorry
_unquote_
[Footnote 10]
The user simply clicks on an area to explore. Visual guides like this map access the human mind's intuitive functions better than text guides.
---
Return to the Table of Contents
---
Sounds
Sound files within a Web page are of special interest to musicians. The Web allows the downloading of a sound file

that can be played through a properly equipped computer. With the proper equipment even red book standards can be transferred over the Internet.
The Internet allows composer Christopher Yavelow to make public his Opera COUNTDOWN. Yavelow, a music technology expert, uses links to display the libretto of his opera and allows the user to download recorded audio segments at will. The major drawback with using sounds is the very large files which require a long downloading time. [Footnote 11]
Movies
As personal computers become more powerful, the use of animation and digital movies is becoming a reality. In theory animation could be the most impressive aspect of digital file transfer. Movies allow for moving graphic images and sound to be displayed at the same time. Newer formats such as Macintosh's Quicktime 2.0 format allow for text information also to appear as subtitles.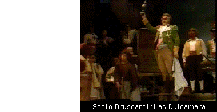 Click here to see Sesto Bruscantini as Dulcamara
Movie removed for space considerations
[Footnote 12]
Unfortunately movies inherit and multiply all of the problems of sound and graphics. File sizes are huge, and even a high powered computer produces a jumbled image unless both the user and the producer of the animation are graphics experts.
---
Return to the Table of Contents
---
MIDI
Musical Instruments Digital Interface (MIDI) is a system devised to represent notes as playback data for an external sound module or sound card. Unlike sound files, MIDI is not a digital representation of sound. Because MIDI data controls only what notes are played for how long and other simple aspects of music, the files are smaller than sound files and easier to transfer. MIDI is also easily manipulated by the end user. MIDI files can be sped up, slowed down and transposed easily. Manipulation of digital recordings is not as easy. [Footnote 13]
MIDI's flexibility should allow for useful accompaniments for vocalists. Through a letter I posted seeking information on MIDI accompaniments I came into contact with vocal coach Earl Shay. In his message Shay echoes the feelings of most vocalists; although MIDI makes a plausible rehearsal medium, the format is not yet workable in performance situations.
---
Conclusions
Although electronic communication will never completely replace the traditional library, the Internet can not be ignored by academics. Even though at the present the difficulty in accessing information does not lend itself to the novice, the process is becoming more streamlined. Established academics may have an aversion to learning a new technology, but to any person wishing to pursue research in the future, and particularly to today's student, neglecting technical skills will most definitely leave a void in a researcher's knowledge base at some point in the future.
At the present time much of the information being exchanged is of little value to the serious minded academic. The individual must sort out the diamonds in the dung heap. The highest quality of information being exchanged is through mailing lists and for the vocalist the single most effective Internet tool is the mailing list Vocalist (q.v.). Vocalist is easily accessible to anyone with Internet access via e-mail and contains cogent information on tips on areas of interest to the vocalist.
Other areas of the Internet will take a few years to catch up to the serious minded academic. The general level of discourse on the Usenet Newsgroups (q.v.) is not worth the time to access at the present. The World Wide Web (q.v.) is exciting and is the future of technological information exchange, but only those who have access to high powered personal computers with a graphic user interface can experience the Web's potential. Other methods of file transfer such as ftp and gopher will slowly be phased out as the Web becomes more established. The use of MIDI (q.v.) as an exchange of musical ideas also still needs a few years before being of use to the vocalist. Much of the technology of the Internet is not feasible to the academic vocalist who is not technically minded.
Although the present state of the Internet is a bit chaotic, the future is exciting. The Internet opens up the world to anyone who can connect and more people are seeking out access. As more qualified people get online the amount and quality of information on nontechnical subjects such as academic vocal music increases. Because technology is rapidly becoming more powerful and less expensive, quality presentation such as that found on the World Wide Web will be feasible in the near future. Anyone willing to access the Internet at the present time will be on the cutting edge of tomorrow's technology.
---
Return to the Table of Contents
---
References
The hypertext format brings about some interesting possibilities for cross indexing. Instead of referring the reader to a bibliographic entry that leads to the proper location to find a text in a library or publishing house, the researcher on the Web can transport directly to information cited.
---
Footnotes
In this document WWW links serve as their own footnotes. The additional footnotes below appear for traditional materials or when clarification is needed.
Harley Hahn and Rick Stout, The Internet Yellow Pages. Second Edition. (Osborne Mcgraw Hill. Berkeley, 1995.) pp. 464 - 481. [Return to Source 1]
listproc@lists.colorado.edu, SUB CHORALIST RICHARD REPP. (chorasum.html) [Return to Source 2]
Majordomo@phoenix.oulu.fi, Welcome to Vocalist. (vocalsum.html) [Return to Source 3]
L-Soft list server at LISTSERV.AMERICAN.EDU (1.8a), Information About the Allmusic List. (allmssum.html) [Return to Source 4]
Mailbase-admin@mailbase.ac.uk, Subscription to Mailbase list cti-music. (ctisum.html) [Return to Source 5]
Deke Sharon, The New FAQ - Part 1. (amacsum.html) [Return to Source 6]
Up Home Help Search. (Einet Galaxy, http://galaxy.einet.net/cgi-bin/imagemap/top-line/EINet/EINet.html) [Return to Source 7]
Boris Sebastien Cournede, Quelques images du Ring par Boris Sebastien Cournede. (http://acacia.ens.fr:8080/home/cournede/ring.html) [Return to Source 8]
IBID. [Return to Source 9]
Ken Fansler, Webmaster, IL.ST.U. College of Fine Arts Home Page. (http://orathost.cfa.ilstu.edu/) [Return to Source 10]
Christopher Yavelow, MacWorld Music and Sound Bible. (IDG Books Worldwide, Inc. San Mateo, Ca. 1992.) pp. 1028 - 1030. [Return to Source 11]
L'Elisir d'Amore by Gaetano Donizetti (1832). (Metropolitan Opera, March 2, 1982. Nicolo Rescigno conducting. Sesto Bruscantini as Dulcamara.) [Return to Source 12]
John F. Eiche, What's MIDI?: Making Musical Instruments Work Together. 1st ed. (Hal Leonard Pub. Corp. Milwaukee, 1990) [Return to Source 13]
---
Bibliography
Eiche, John F. What's MIDI?: Making Musical Instruments Work Together. 1st ed. Hal Leonard Pub. Corp. Milwaukee, WI, 1990.
Faulk, Bennett. The Internet Roadmap. Sybex Inc. Armeda, CA, 1994.
Hahn, Harley and Stout, Rick. The Internet Yellow Pages. Second Edition. Osborne Mcgraw Hill. Berkeley, 1995.
Yavelow, Christopher. MacWorld Music and Sound Bible. IDG Books Worldwide, Inc. San Mateo, CA,1992.
---
This master list of music sites serves as a bibliography of WWW sites.
---
Software
Adobe Photoshop (TM) 3.0. Knoll, Thomas et al. Adobe Systems, Incorporated, 1994.
BBEdit Lite v. 3.0. Bare Bones Software, Natick, MA, September, 1994.
Claris Works (R) v. 2.31. Lindsey, Scott et al. Claris Corporation, March, 1994.
Eudora v. 1.51. Dorner, Steve. Qualcomm, 1994.
Fetch v. 2.12. Matthews, Jim. Trustees of Dartmoth College, Hanover, NH, 1994.
GIFConverter 2.3.7. Mitchell, Kevin A., 1992.
MacWeb 1.00 ALPHA3. Microelectronics and Computer Technology Corporation, 1994.
NCSA Telnet 2.6. Browne, Jim et al. NCSA Software Development, Champaign, IL, 1994.
Netscape Navigator (TM) version 1.0N. Netscape Communications Corporation, 1994.
NewsWatcher v. 2.0b24. Norstad, John. Northwestern University, Evanston, IL, 1995.
Quickflix v. 1.1.1. Video Fusion Inc., 1994 - 1995.
SoundEdit 16. Meyrowitz, Norm et. al. Macromedia, 1994.
TurboGopher 2.0b8. University of Minnesota, 1995.
---
Return to the Table of Contents
---
Special Thanks
My thanks to all on the Internet who gave me leads and support.
---
Return to the Table of Contents
---